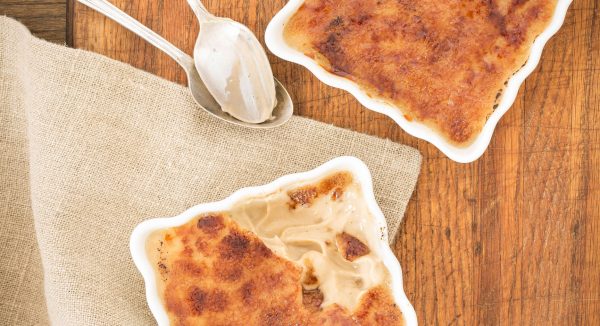 Ingredient
2

cups (300g)

cashews

1/2

cup (125ml)

maple syrup

1

tsp

fresh lemon juice

1

tsp

sea salt

1/3

tsp

vanilla extract

1/2

cup (95g)

organic and fair trade canne sugar

2/3

cup (160ml)

melted coconut oil
Instructions
(Optional) Soak cashews for 4h. Rinse well and discard soaking water.

Blend cashews and the rest of the ingredients, except for coconut oil. Blend into a smooth paste. Add coconut oil and stir until you get a smooth cream.

Pour into ceramic dishes, let sit in refrigerator for 2 hours.

Sprinkle with sugar and burn with torch before serving. Be very careful as the sugar will become very hot and can cause severe burns.
Notes
Keeps 5 days in the fridge in a sealed container.