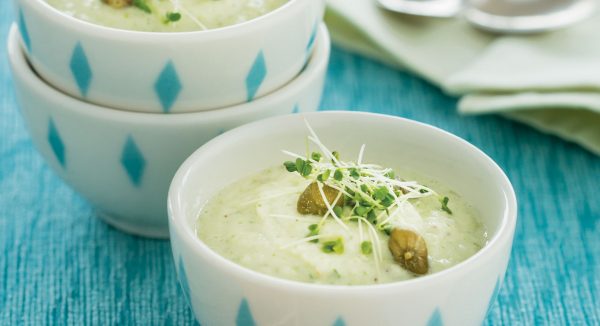 Ingredient
2

cups (400g)

celeriac, grossly cut

1

cup (120g)

celery branches, grossly cut

1/2

cup (75g)

macadamia nuts

1

tsp

sea salt

1

tbs

lemon juice

1/4

tsp

celery seeds

2

tbs

sliced capers

1/2

cup (20g)

sliced celery leaves

1 to 2

tbs

chopped lovage (wild celery)

(optional)
Instructions
(Optional) Soak Macadamia nuts for 12h. Rinse well, and discard soaking water.

Place all ingredients in blender, except for capers, celery leaves, and lovage. Reduce to a smooth cream.

Once the cream is ready, add capers, celery leaves and lovage (if you wish). Pulse mixture to blend lightly and keep the texture.

Garnish with micro-shoots and capers.
Notes
Keeps 2 days in the fridge in a sealed container.