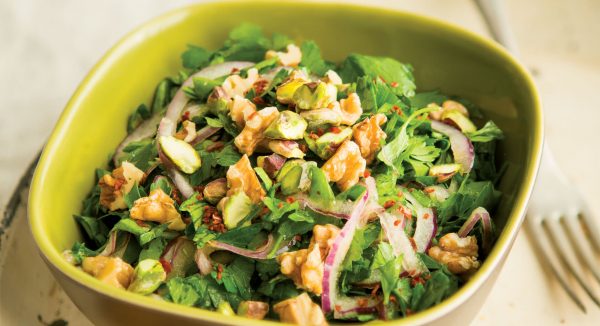 Ingredient
1

cup (250ml)

freshly squeezed orange juice

(2 to 3 oranges)

1

tsp

orange blossom water

1 1/2

tsp

natural cane sugar

1

tsp

sea salt

(voir la note 1 ci-dessous)

1

cup (250ml)

finely sliced red onions

3/4

cup (180ml)

tasty olive oil

(lebanese oil, for tajine…)

2

tbs

Aleppo peppers

(see note below)

2

bunches

chopped parsley
Finishing touches
pistachios

chopped walnuts
Instructions
In a bowl, mix orange juice, orange blossom water, cane sugar and salt.

Add onion slices and marinate for at least an hour.

Strain onions and keep juice aside in a bowl. Place onions in a large bowl and add parsley.

Whisk marinade juice while slowly pouring olive oil. Season with Aleppo pepper. Add salt to taste. Mix.

Pour dressing over onions and parsley, and gently toss.

Garnish with pistachios and chopped nuts.
Notes
Aleppo peppers are used all over the middle eat. It is lightly hot (ranking a 3 on the Scoville scale, measuring pepper heat. Just to compare, cayenne peppers are a 6). The Aleppo is also sweet and fruity. It is more humid than other chillies. You can replace it with chilly flakes in a little bit of sugar and water, or sweet oil, and for this particular recipe, a little bit of orange zest.